As an Amazon Associate, I earn from qualifying purchases.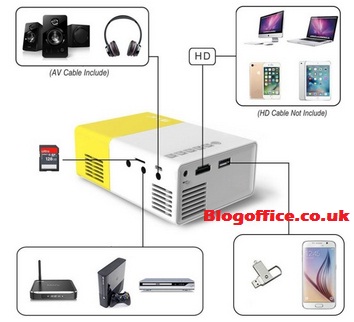 Most of us know the most common way to use a projector is by connecting it with a PC or a laptop. But one day, your laptop or PC suddenly breaks down before an important meeting, and the only thing you have is your smartphone.
Surely you would want to know "can projector connect to phone?". And the answer to that can be found right below!
Can Projector Connect To Phone?
The answer is yes! You can definitely connect projectors to phones (smartphones in this case). We will list out some techniques for you to easily connect them without any hassle. Let's get started!
Wireless
Android smartphones
To connect your Android smartphone with a projector wirelessly, you can resort to external streaming adapters such as Google Chromecast or others with similar Miracast technology. Basically, Miracast allows you to cast (or 'mirror') media from your existing Android smartphone through the local Wi-Fi network and onto your projector.
However, you need to have access to the wireless network in the projector environment and guarantee that your projector has an HDMI port to plug those streaming dongles in.
But since you are here reading this, we assume that you don't own such devices. Therefore, the second option depends on the projector. Many manufacturers like Samsung, LG, and others, have begun including built-in smart capabilities that support wireless streaming from various Android devices.
This eliminates the need for third parties equipment. Whether or not you need to download a separate app for that projector or use Wi-Fi direct is up to each brand.
iPhones
Connecting an iPhone to other devices other than Apple's can be rather tricky though not impossible. The main option available is through manufacturer-designed wireless connections as we mentioned in the previous part.
Before using, you need to check if the projector you use supports iOS, then process just like with other Android smartphones. Even better, if you already own a Chromecast, it works with the iPhone as well!
Using cables
In case you don't have a Wi-Fi network at hand and all options as described above have failed, the good old wire connection will do the trick. All you have to do is to plug and play, minus all the complicated steps like the wireless counterpart.
However, no matter what kind of connection you use, you need to identify what type of port your projector offers. Some projectors offer all sorts of outputs from USB and VGA to even on-board Bluetooth.
Meanwhile, the majority of modern projectors have at least one built-in HDMI (High Definition Multimedia Interface) port for wired video connection. After knowing all the ports that your projector has, do the same with your phone to get the right type of cables.
Android smartphones
You are lucky if your Android phone has a Mini-HDMI port since some projector models own Mini-HDMI ports. The connection between the device and the projector is enabled with an affordable Mini-HDMI to HDMI cable. Unfortunately, this is a rare case.
A micro-USB or USB-C option is more common among most modern Android smartphones. For this, you can use a USB-C to HDMI adapter to connect your device directly to the projector.
But before plugging the cable directly to your phone, you have to check whether your device supports using an adapter for HDMI video out by googling your smartphone model + video out.
Another way for you to connect your projector with phones is through the Mobile High-Definition Link (MHL). This new standard is adopted by several manufacturers, which allows video signals to be transmitted with a special adapter from your micro-USB port.
An MHL to HDMI adapter is required to support this functionality. A little side note for you, you need to ensure your phone has enough power to stay connected with the projector for a long time since most USB-C to HDMI connections will not charge your device during usage.
If you opt to use MHL, however, then you can relax as your device stays charged during the presentation.
iPhones
With the iPhone, you also need to get an adapter because it doesn't have a standard video port. And of course, Apple sells them. Despite the ridiculous price, the two kinds of cable we're about to mention will come in handy for wiring your iPhone to any projectors.
A Lightning to VGA adapter or a Lightning Digital AV Adapter is what you need. The first one works with a VGA port while the second one works with an HDMI port.
How to not be mistaken between the two ports on the same projector you say? VGA is the thick, 30-pin cable with a screw on both sides while HDMI is the thin, wide plug without any screw.
Final thoughts
After reading this, you can now say goodbye to trying to connect your laptop or PC with projectors. With just a smartphone, you can now bring all sorts of slides, and videos in your pocket and easily show it on a big screen for everyone to see.
With that being said, your curiosity on the question "can projector connect to phone?" has been satisfied with our in-depth answer, right? See you next time!